About Grasso's German Shepherds Training and Experience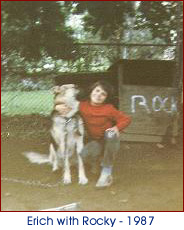 Born into a household already occupied by three dogs, I unconsciously began my journey and lifelong passion into the world of German Shepherds.  It is my strong belief, as with many other exceptional dog people, that to truly be "one with dogs," it is vital to grow up with and live alongside them.  My introduction and immersion into a life shared with canine companions came at an early age.  Just like in sports a child develops fundamental skills at an early age that can't just be taught later in life. As such, it was through my dogs' teachings and companionship along with many great mentors that I developed and honed the instincts and skills I now utilize in working with all canines.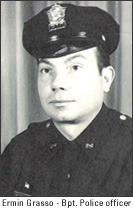 A pup named Rocky was my first official introduction to the breed.  Through my grandfather, an officer with the Bridgeport Police Department, it was my great fortune to be introduced to Lieutenant Angelo Fiorini, head of the Bridgeport K-9 Unit.  Even though I was only 7 years old, Lieutenant Fiorini took me under his tutelage for several years to work with the Unit.  I realized even at such a young age, as did those around me, that my interest in dog handling was more than just a hobby.  After all the years gone by, I still recall and repeat many of the Lieutenant's words of wisdom that he so generously shared with me in my youth.
At 11 years of age, under the guidance of Judge Chernak (German Shepherd Dog Club of America), I achieved 2nd place in an AKC obedience trial with my second shepherd, Sheba.  The AKC environment was very different from what I was accustomed to in K-9 training.   Realizing there were beneficial dog training methods being employed within both arenas, I eagerly put this new combined knowledge to work.  By age 14, I felt confident to train my own dogs and at my friend's and family's requests, I began training their companions.
Throughout my high school years, I continued pursuing my ambition to work with dogs and dedicated my free time to canine training and behavior evaluation.  Fate once again smiled upon me, and I began to mentor under the wing of professional trainer, Justin Rigney.  Traveling throughout the East Coast, Justin and I attended numerous seminars and events.  It was during this period that I realized the value of knowing what not to do was just as important as knowing what was correct.  Together, we trained a multitude of dogs in many different environments resolving many owner-canine conflicts.   Justin Rigney is truly a very unique and talented individual.
After high school, I was afforded the opportunity to study under renowned trainer, Mr.  Rodriguez.   This was truly a great privilege as many wished to work under the auspices of his expert authority.  For nearly ten years, Mr. Rodriquez shared his knowledge with me bringing my skills to a new level. 
There has never been a doubt in my mind that Justin Rigney and Mr. Rodriquez are two of the best trainers within New England.  I will never forget their generosity in sharing their time and energy with me, but I am most thankful for the gift of their knowledge.  I take great pride in and feel deep gratitude that I am now recommended by both these gentlemen.
My success in the dog world is a classic example of truly pursuing a passion.  I was very fortunate to meet some excellent mentors along the way who have given me much of their time and energy.
Special thanks to: Justin Rigney, John Rodriguez, Mike Bortnick, Linda Chernak and Melinda Miller
For over 15 years, Grasso's German Shepherds has been committed in their involvement in the importation, breeding, and training of premium quality European German Shepherds.
It is our strong belief that ethical and reputable dog breeding is the work and effort of a true dog lover.  As such, this has been and always will be a great passion for us.  We only import proven German Shepherds from Europe and work with the dogs daily to evaluate, train, and care for them.  Our dogs never sit in runs or kennels all day; they are involved in the normal everyday activities as will be expected in their new homes.  Grasso's German Shepherds is located in a tranquil setting bordering over 53 acres of wooded terrain interspersed with accessible hiking trails.
Training - Click here for some training pictures

Our training methods are proven, and we are constantly striving to provide our
customers with top-of-the-line Shepherds. Whether they come to us as puppies, adolescents, or adults, the dogs we import and breed are trained from the beginning to be stable, neutral pack members who co-exist with various types of dogs and livestock located at our home. We focus and strive to be different, all of our dogs learn to be "livable". A basic term that is so over looked now a days.

Affectionate Companion
Acquiring a Grasso Shepherd
Step 1
After a lengthy conversation, if we don't have a dog that fits your requirements we will locate dogs that fit your general requests shortly.
Step 2
You are given a thorough video of the dogs, which include training, exposure of the dogs with children, people, other dogs and animals, and the dog in different environments.
A non-refundable $1000 deposit is required to prepare adult dogs. ​
Choosing your dog
Selecting a German shepherd that will suit your needs and your lifestyle is a daunting process. With so many options available to you, it is often difficult to make an educated decision. Allowing us to assist you in this process ensures that you will receive a Shepherd that is stable, yet protective. We take the time to listen to your needs, answer your questions, and provide you with a dog that will exceed your every expectation. It is this hand-selected service that sets us apart from the rest.

The differences among German Shepherds are so drastic that is has some actually boycotting the breed. Unstable temperaments have led to many people fearing and disliking the breed all together.
The dogs we deal with are not those dogs. Stringent European Pink Pedigrees make sure the dog you're purchasing has a perfect track record for many decades. Unlike the AKC, that organization can not be tampered with easily. Backyard, everyday litters lack the ability to consistently produce sound animals. Purchasing those dogs is a gamble, with a powerful animal as such, it is a risk worth thinking about considerably.

Actual Selection of the Puppy

First, you should decide if you want a male or female. Males and females are similar in many respects but there are marked differences between the sexes that you should be aware of. Males are generally larger and heavier (24-26 inches at the highest point of the shoulders and 65 to 90 lbs). Females are somewhat smaller and lighter in weight (22-24 inches in height at the top of the shoulders and 50-70 lbs).




Temperament, Character, and Abilities





American vs. European

The differences between these two types of German Shepherds are dramatic, not only in appearance but also in quality and stable temperament. The European dogs we import are bred on the fact that they are worthy of breeding. Stringent European Pink Pedigrees ensure the dog you're purchasing has a stable background and a strong bloodline that can be traced back for many decades.

American dogs frequently lack the stability to be consistent, safe pets. Backyard, everyday litters are unable to consistently produce sound animals. Purchasing those dogs is a gamble, and is a risk worth thinking about considerably.