Police K-9

What it means to be ... Bred, Fed and Trained by Grasso
Over 20 years' experience in breeding superior German shepherd dogs. No kennel dogs! We don't believe in keeping breeding dogs like zoo animals. Character traits, temperament, nerves and sociability are all passed on to offspring. Our breeding dogs live in homes, this allows us to truly know the dog we are breeding. In a kennel environment, you cannot get to know a dog fully, you have to live with a dog intimately to know the dog. In my opinion, whether police or family dog our dogs are acclimated into a variety of situations that others simply just don't do. I can compare it to breeding wild animals... if you take a wolf cub out of the wild and raise it in a family that wolf cub will become social no doubt...however that same wolf cub will also still retain some wild like tendencies, which will be apparent at times due to the years and years of character traits being passed on. It's the same we see with kennel dogs who develop almost a neutral, hardened cage like temperament... while kennel time can be valuable and is quiet fine in moderation. I feel due to mass producing goals it is often almost always abused.

In regards to Diet, we have become diet specialist in maintaining and switching dogs onto a real food diet over the last 20 years. Having made our own food in the beginning, learning the right balance over trial and error. Raising over 60 litters on a completely real food diet producing noticeable results.
Read our testimonials and watch us continue to prove why we are the leaders in supplying first class, reality based training and unequaled quality and temperament in German shepherds. Our proof is in our people. One of the largest collection of owner written testimonials on the web.
We are proud to service our men and woman in blue. Having earned the respect and following of many Police departments makes us proud. Almost every police dept. from NYPD/Yonkers to as far North as Torrington, CT chooses to have a Grasso dog! Why? We can answer this simply, it's a difference based on old school principles. A true Passion for ones calling, this isn't a business to us paying attention to fine detail, a team with unparalleled work ethic and a motto of "do the right thing" is the base of our business. Support and more support! People want to learn from experienced professionals, they want support when in good times and in bad. We pride ourselves in staying in touch with each family/officer for the life of the dog. It's that comfort that keeps people coming back and sending family and friends they care about.
The Stamford Police K-9 Unit
I am very proud to be one of Stamford's K-9 trainers. Being able to have gained the trust of the K-9 handlers and to be able to work under Sergeant Reda of Norwalk police department gives me great pride.  I have watched the officers of Stamford K-9 unit grow and evolve into competent dog handlers over the last two years.  I am very confident to say that these handlers have developed their dogs to the true highest level demonstrating high control under demanding circumstances and absolute reliability under realife situations.  The senior handlers, Officer Seth O'Brien and Officer Dave Dogali both show rare untiring work ethic and have devoted themselves to truly becoming the best handler possible.  Unit coordinator, O'Brien also actively seeks out new training areas and ideas to further the units knowledge demonstrating relentless passion. The unit also partakes in  attending seminars to further their learning.  It must be noted that these are not mandatory acts and show great dedication and drive not found in all K-9 units.   The newer members to the unit have also shown a strong dedication to learning and are doing well. We as a unit always strive to keep our training street wise, non routine and realistic to the environment of the handlers.  Going above and beyond is what SPD's unit is all about and I am proud to be a part of it.
The Bridgeport Police K-9 Unit
It has been an honor serving Connecticut's largest K-9 unit. Led by a highly dedicated and motivated Sergeant, this unit includes some distinguished dog handlers who recognize the achievement and reward gained through hard work. I personally enjoy watching the officers evolve into competent handlers as they work the streets and learn to read their dogs as their dogs learn to read them. The unit includes a two time handler Joe Morales, who is known for his exceptional K-9 work record and handling skills. Providing quality, intense, stable dogs to the K-9 unit of Bridgeport gives me great pride as I know my canine will perform to the highest standard while working in the line of duty.  An officer can confidently place his/her trust in the partnership they share with their chosen canine. I look forward to working with the City of Bridgeport for many years to come. Erich Grasso

Erich has sold dogs to state of Michigan, Florida, New Jersey and Connecticut
Officer Eddie Rodriguez - Bridgeport Police
On September of 2014 I started the K9 Academy. During the process of choosing a dog for me, we went to see Erich. Erich was the first breeder and the only breeder we saw. Once he showed us Errol we were impressed with the quality of dog he was. I knew he was the one for me.
During the 15 weeks of training Errol was a pleasure to train and excelled at everything that was thrown his way. Errol is what any handler would want in a patrol dog.
I highly recommend Grasso Shepherds for anyone that is looking for a quality shepherd, for Police work or pet. Not only are you getting a quality dog, you are also getting Erich's knowledge, who is just a phone call away and always willing to help.
Officer Mark Martocchio - Bridgeport K-9
Sergeant Kevin M. Gilleran - Bridgeport K-9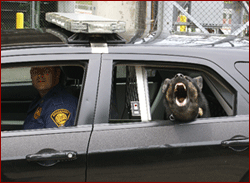 "In the past, Erich Grasso has provided the Bridgeport Police Department K-9 Corps with excellent quality German Shepherds. It is important that all canines assigned to our unit have the top qualities needed for police work. The prospective handler and his canine are required to endure a rigorous 15 week program that many do not complete. Most recently, in December of 2008, Officer Daniel Gomez Jr. and K-9 Cooper graduated from the Connecticut State Police K-9 Academy. Cooper was provided by Erich Grassos Shepherds. This K-9 team is currently working in the City of Bridgeport.
Erich's excellent knowledge of working dogs has made him a credible and reliable provider. He is a professional with German Shepherds that come highly recommended". Sergeant Kevin M. Gilleran
Click here to view the video
Officer Joe Morales - Bridgeport K-9
If you are looking for a top of the line German Shepherd look no further!

As an 11 year K-9 handler, I am lucky and honored to have met Erich. He has helped me become a better dog handler with both my police dogs; retired K-9 Brix and currently working K-9 Riko. I can only speak highly of Erich's work ethics and dedication not only because I know Erich personally, but to my knowledge he has always had a great animal instinct, and love for animals. He is a true dog whisperer and he is the real deal. He is very personable, very dedicated to his job. He has great dog sense, excellent knowledge of behavior aspects of dogs, and exceptional knowledge on their diets. My K-9 Riko has been on a raw meat diet recommended by Erich. It has resulted on excellent health and great performance.
Erich is a Great German Shepherd breeder of work line and show line Shepherds. I can attest to seeing both lines. Erich is dedicated to finding the right match for a dog handler or pet owner. He will go above and beyond to meet your expectations.
He has rode along with me numerous times while I'm patrolling, he has great understanding of police dogs, he show great interest observing police dogs in their work environment. Erich is very dedicated to the Bridgeport Police Department K-9-Unit. I have come across other dog breeders and trainers and Erich stands out as one of the most dedicated and knowledgeable one I have ever known.
I feel very confident recommending Erich and know you will be totally satisfied with your new dog.
Trooper Jason Cassavechia - State Police
New Recruiters
"I raised him and after this program I trust him of being my best backup. Obedience, obstacles, aggression work, tracking, you have to be able to motivate them to do all these things." Trooper Jason Cassavechia
Click here to view Channel 8 News video
Recent Graduates
K-9 Mack
Milford Police Dept
K-9 Pharaoh
Torrington Police Dept
K-9 Zeus
Bridgeport Police Dept
K-9 Remington
Torrington Police Dept
K-9 Storm
Trumbull Police Dept
K-9 Kobe
Bpt Police Dept
Storm
 Trumbull Police Dept.
Nike - Yonkers Police K-9
Erich with Trooper Cassevechia and
K-9 Luger on graduation day
Newest K-9 graduate - K-9 Trace BPT Police

Nenja
New Jersey Police K-9

Trace - Bpt Police K-9
Stamford Police K-9 Unit - Officer Seth O'Brien and K-9 Cooper
Norwalk Police K-9 Dept - Officer Kruger with Kimbo 
Bane - Greenwich, CT Project Safe
New Rochelle Police K-9
Norwalk Police K-9 Department
Westport Police K-9 Dept - Officer Loomer with Koda
Rush - New Jersey Police K-9
Lehman College Police K-9
Lehman College Police K-9
New Rochelle Police K-9
Bpt K-9 Ricko
| | | |
| --- | --- | --- |
| | | |
| Bpt K-9 Cooper | | Bpt K-9 Titus |
---
Testimonials
Officer Seth O'Brien
I should admit that my testimonial will be biased because I consider Erich Grasso one of my few, very close friends.  This relationship began over seven years ago when I asked the vet for a reference for a "dog trainer" who could assist me with my then 10-week-old German Shepherd. The girl at the desk handed me a business card and said, "Trust me, don't call anyone else." Thank God I took her advice.
[read more]
Officer Douglas Deiso
I am a new K-9 Handler for the City of Stamford Police department. I have been under the guidance of Erich Grasso since the day I received my new partner "Turbo". Erich is not only patient, but very detailed in assisting myself and our unit in trouble shooting behavioral issues with my K-9 and others in the unit. Erich is also willing to share all of his knowledge and does not hold back his opinion on our handling skills. He is also honest with any limitations or weaknesses that need to be addressed with each of our K-9's. Erich is a no nonsense trainer and sets the bar extremely high for police handlers and there partners. 
Officer David Dogali
Talk about making a first impression, Erich proved himself within the first few minutes that I met him. His experience and fast thinking actions were both impressive and effective as I witnessed him he spring into action to help another person.  He is extremely professional, respectful, and is always willing to offer advice and assistance to others.  
Officer Louis Scarano
I am a Stamford Police Officer and also a Decoy for our K-9 Unit. Erich has played an instrumental roll in the progression of our unit since it began and attends just about all of our training sessions. His vast knowledge and ability to read each of our handlers' dogs is truly amazing.
Officer Mark Tymon
I have only been a K-9 Officer for a short time, but with the guidance of Erich Grasso, I feel much more confident with my partner " Titan". Whenever I feel like i'm having an issue, Erich is able to come up with a quick exercise to overcome it. I highly recommend Erich and Travis if you are considering a German Shepard, or are in need of a little guidance.
Newtown Police Department
Assistance with Canine Program
On behalf of the Newtown Board of Police Commissioners and the Newtown Department of Police Services, I wish to extend to you, much gratitude and thanks for your assistance to the Newtown Police Canine Program. [read more]
Jason Coooling - Torrington Police Dept
The difference between dealing with Erich and other breeders is night and day. I am very careful about who and what I recommend, so it take very seriously when I say that I recommend Erich Grasso with my fullest and upmost faith. Whether you are looking for a family, sport, or police dog. There is NO other place to go that is worth your time. [read more]
Sgt. Carl Strate - Stamford P.D.
After the unexpected loss of Bailey, my 5 year-old German Shepard, I was urged by several of my fellow Officers to reach out to Erich. I knew I needed help to recover from this experience, so I made the call. Erich took time to listen, then asked pertinent questions, all with no expectations or pressure, while understanding I was in a grieving state. Thank you for this special gift! [read more]


Meet Our Retired K-9s
The beginning of a K-9s career is always the focus, the end of the career is just as important...
Retired K-9 Luger Bridgeport K-9 Police Unit, Handled by Officer Mark Martocchio

K-9 Luger of the Bridgeport Police Department  recently retired in 2011 due to injury.  Luger handled by a exceptional handler, Officer Martocchio.  I still remember the first day Luger and Martocchio were matched up.  Senior Handler Officer Morales and I met Luger and Martocchio at 90 Acres park.  An eager Martocchio was filled with questions as the pair got acquainted.  Little did they know that was the beginning of an exemplary career.  Luger and Officer Martocchio are a recognized team statewide.  Their accomplishments on the street over the last 6 years have exceeded most teams.  Luger's retirement due to injury was sudden and a relentless Martocchio and I were lucky enough to find an exceptional vet, Dr. Angela Erickson.

After a few sessions with Dr. Erickson, Luger improved immensely and lives a comfortable life here with me for his retired years.  Having the opportunity to see the teamwork on the road many of times over the last 6 years has created a huge amount of respect and loyalty on my part.  For the record, some vets told Martocchio that Luger couldn't be helped.  It was he that didn't accept that and seeked out alternative methods.  If anyone ever has any spine related injuries occur to their K-9 or pet, please check into Dr. Erickson for chiropractic & acupuncture treatments.





Retired Police K-9 Stoki

Stoki retired from Stamford police K-9 unit at the age of 5 due to injury.  Officer Seth O'Brien worked extremely hard with K-9 Stoki right from the very beginning. I know that K-9 Stoki taught Office O'Brien a lot in his years and he will carry it with him forever.  Officer O'Brien also ensured that K-9 Stoki would retire with a supreme quality of life. He and I were able to find a forever retirement home on a 13-acre farm in Indiana where Stoki now resides. 


Retired Police K-9 Brix

Retired K-9 Brix, Bridgeport police K-9 unit, handled by Sergeant Joe Morales. A truly famous K-9 team in CT, Sergeant Morales and Brix were an amazing team. Brix was nearly human as I have seen him work on the road on many calls. Joe has the natural ability with dogs to communicate and create a K-9 partner that can rationalize beyond belief. Joe also made sure Brix enjoyed his retired years in a loving home he deserved.